I continue to be fascinated by Jim Peningston's Binary Code case and below is a link from Gary Osborn's site that gives some background information on what that's all about including his own thoughts about it.
http://garyosborn.moonfruit.com/#/rendlesham-code/4563714793
On another page on his website, he posted the transcript of David Wilcox's interview on 'Behind the Paranorma' where the topic was on those codes too where he was specifically focusing on the coordinate Hy Brasil that was included in those codes. Here's that link: http://garyosborn.moonfruit.com/#/wilcock-interview/4563930977
The part of this interview that I found interesting was when David Wilcox said:
"First of all there is a written legend about Hy Brasil, and the written legend says that people lived on this island who considered everyone else on the mainland, which is Europe, to be savages and primitives and apparently they had very advanced technology including levitation and advanced forms of sound healing, and they were ultimately forced to migrate away from their island by the rising flood waters of the ice age, where you have like a 150ft to 300ft rise in sea level in a really short time. When they got to Europe they actually became the builders of the stone circles and the standing stone-like megaliths and menhirs and so forth. The Irish referred to them as . . . I think they became the Asgard which is a Norse myth. Basically the people of Hy Brasil migrated to Europe and you can then trace them through the gods of Irish mythology, the gods of Celtic mythology and the gods of Norse mythology. So these are some very, very heavy players here. It's not just another UFO story, it connects to everything".
Well, to supplement this information, Rudolph Steiner mentioned a few things about an ancient group of extraordinary humans that originated from Ireland and it's information that those who are interested in this topic and Hy Brasil may find useful. Below are a couple of scanned pages from Steiner's book entitled 'Universe, Earth and Man' which is a compilation of Steiner's lectures in 1908. I put a red star where Steiner mentions that mysterious group from Ireland.
Source: Steiner, Rudolph, 'Universe, Earth and Man', Rudolph Steiner Press, London, England, 1987, pgs. 165-168.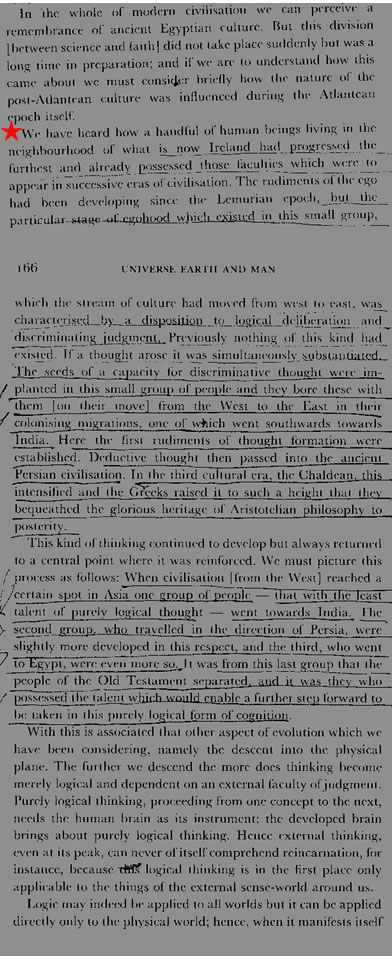 Osborn also has additional information on Hy Brasil at this link:
http://garyosborn.moonfruit.com/#/hy-brasil/4565482642